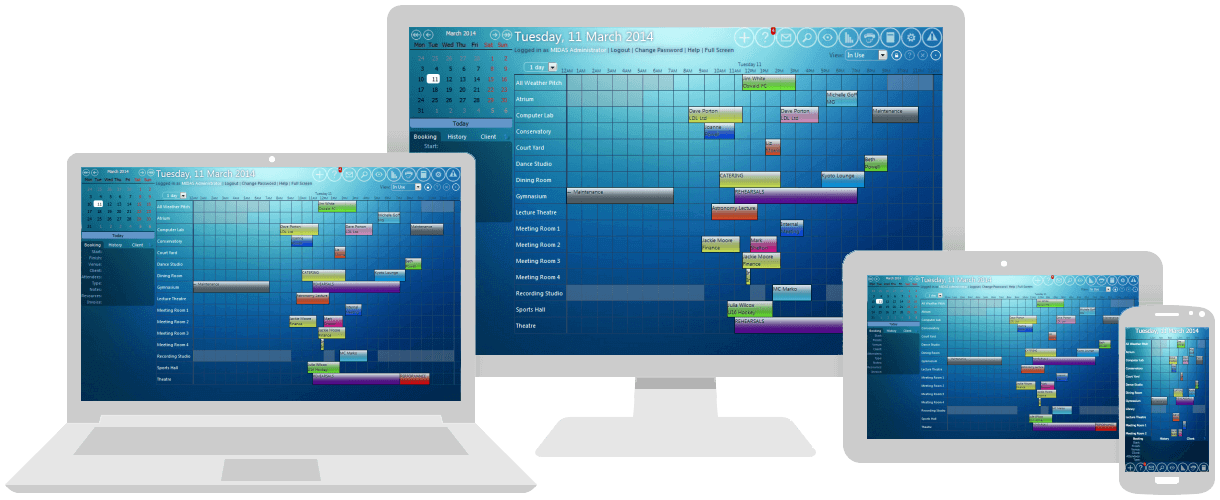 The Web Based Room Scheduling solution for the effective management of your facilities and resources!
What is MIDAS?
MIDAS is a powerful yet easy to use web based scheduling system giving you complete control over your room bookings and resource scheduling, and trusted by organizations and businesses of all sizes across the globe.
Accessed from your favorite web browser, on your desktop, laptop, tablet or mobile device, the software lets you see at a glance when your bookings are scheduled in the calendar, manage staffing and equipment, send booking confirmations, reminders and invoices to clients, take booking requests through your website, and put an end to double bookings and confusion once and for all!
As all you need is a web browser, MIDAS is readily available wherever you are! - Whether at the office, at home, or on the move - your room booking information is there right at your fingertips!
MIDAS is available to download (to install and run on your own server), or as a cloud based SaaS (Software as a Service) solution, accessible securely online through a short unique URL for your organization (i.e. https://your_organization.mid.as)
Ideal Booking System For:
Meeting Rooms
Schools, Colleges & Universities
Churches & Places of Worship
Conference Centers
Entertainment & Performance Venues
Community Lettings & Facilities Hire
Sports Complexes & Health Clubs
Training Centers
Arts & Music Festivals & Events
Hotels & Guest Houses
Multi-Site Businesses
...anywhere with facilities to schedule!