Looking for an MRBS alternative?
...MIDAS has you covered!
Are you searching for a suitable alternative to your MRBS (Meeting Room Booking System)?
We're confident that MIDAS can exceed your expectations of what a room booking system should do!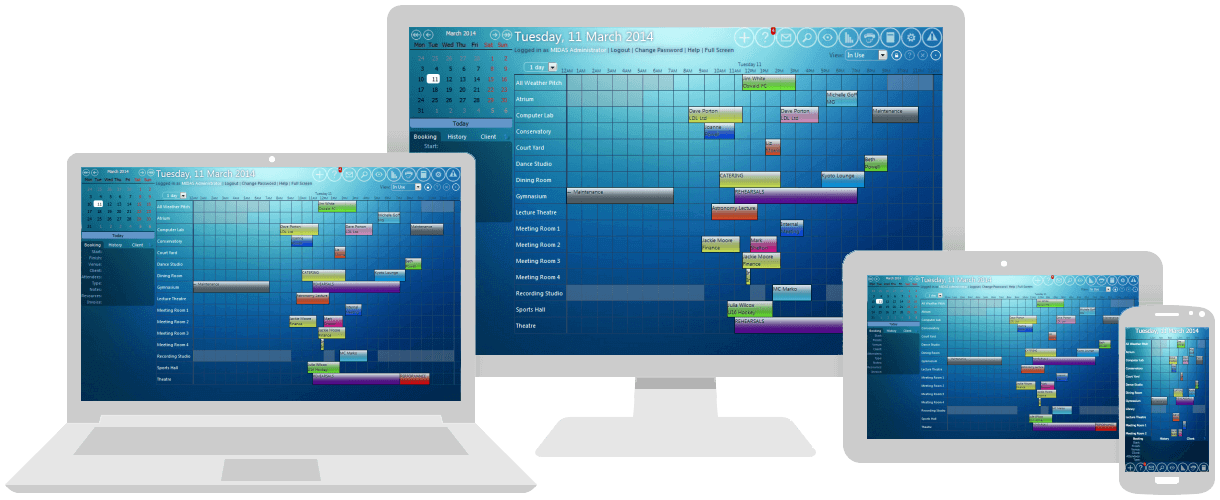 Below is a comparison of the key published features of MRBS with MIDAS...
MRBS vs MIDAS Feature Comparison
| | | |
| --- | --- | --- |
| Feature | | |
| Platform | Web Based - Available from any workstation through a Browser | Web Based - Available from any device with a modern browser (all major browsers supported!) |
| Device Support | Desktop/Laptop only | Desktop, Laptop, Tablet, and Mobile device support |
| Interface | Simple to follow, Web based options and intuitive presentation | MIDAS features an intuitive user interface with a "responsive design", that will automatically adjust the size of your device's screen |
| Recurring Bookings | Flexible Repeating Bookings | Flexible Repetitive Bookings - Learn More |
| Single Sign-On | Authentication with your existing user database (e.g. Netware, NT Domain, NIS etc.) | Authentication possible via Active Directory/LDAP providing seamless single sign-on capabilities 1 |
| Booking Conflicts | Ensures that conflicting entries cannot be entered | MIDAS won't allow double-bookings... ever! |
| Reporting | Reporting option | Extensive graphical reports and statistics and be instantly generated. You can also export data for analysis and use in 3rd party applications - Learn More |
| Calendar Views | Selectable DAY / WEEK / MONTH views | Day, multi-day (2 days - 8 weeks!), and monthly view options available - Learn More |
| User Levels | Multiple auth levels (read-only, user, admin) | An extensive range of over 30 user permissions can be individually assigned to each user account - Learn More |
| Booking Options | Support for bookings by time or period - ideal for use in schools | Bookings can be configured (on a per user basis) to allow booking by discrete start and finish times, or start time and duration, or predefine periods (Ideal for use in schools!), or even by number of nights (Ideal for use in hotels!) |
| Notifications | Room administrators can be notified of bookings by email | Not only can room administrators be notified when new bookings/booking requests are made, MIDAS includes a powerful "Watches" feature that allows user to be notified when all kinds of activity takes place - for example, when a certain resource is added to a booking, when certain bookings are modified, or when consumables are running low! - Learn More |
| Languages | Multiple languages supported | Multiple languages supported - plus we provide tools to translate MIDAS into other languages |
| Usage | Stable and in use at many organizations | MIDAS stable and trusted by organizations of all types and sizes all across the world! |
| Development | Developed in author's "spare time" | MIDAS has been in continual active development since 2005. |
| Database | MySQL and Postgres support | MySQL and MariaDB support |
| Installation | Customer needs to install MRBS on their own server | Both Cloud-Hosted (SaaS) and Self-Hosted (on-premises) editions of MIDAS are available - Learn More |
| Documentation | Basic, Online only | Complete Online documentation, Offline and printable complete manuals in PDF format, over 70 video tutorials, an extensive Knowledge Base |
| Support | Basic Public Ticket system & mailing list. Authors "prefer not to receive email from users directly" | Live Chat and Dedicated Priority Email support (typical responses within 1 hour, regardless of the day of week!) - see our current response times |
| Price | Free Download | View Pricing |
---
But wait - there's more!
---
It's really easy to switch to MIDAS!
It's really easy! You can export data from your existing MRBS system and import it into MIDAS in seconds, and we provide full instructions too! - Learn More

1 Only available in self-hosted editions licensed for Unlimited users.
Information on MRBS features obtained from the official MRBS website and correct at time of publication