MIDAS Knowledge Base
MIDAS Addon: Data Feeds

The Data Feeds addon for MIDAS automatically generates multiple data feeds of your bookings for use with 3rd party external calendars and applications.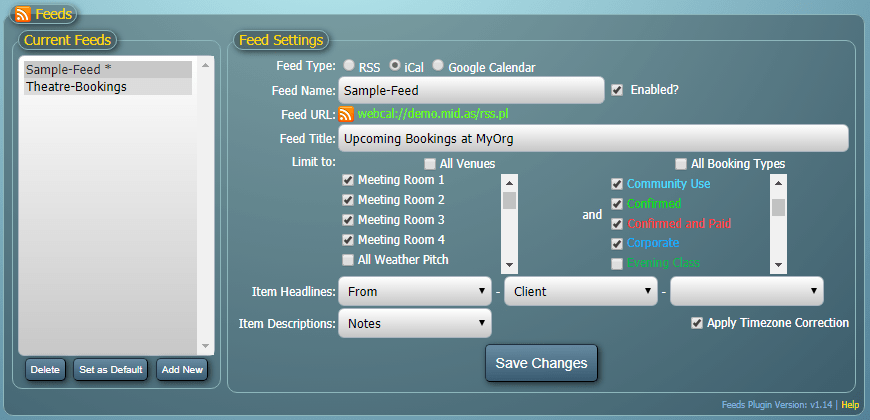 What Data Feeds can be generated?
The "Data Feeds" addon is capable of generating a variety of different data feeds from your bookings. These include:
RSS Feeds
Google Calendar Feeds
iCal Feeds
RSS Feeds
RSS is a common web feed format for delivering regularly changing news/data to many users in a standardized format. Many news-related sites, weblogs and other online publishers syndicate their content as an RSS Feed to whoever wants it. In MIDAS, an RSS feed will generate a feed of upcoming bookings for use with RSS compatible readers/aggregators.

Please note: The Data Feeds addon replaces our older "RSS Feeds" addon, however all the original functionality has been maintained, and existing customers using the older RSS Feeds addon will be automatically updated to the Data Feeds addon when they update to MIDAS v4.23 or later.
Google/iCal Feeds
Google Calendar/iCal Feeds allow you to "subscribe" your external calendar (Google Calendar, Outlook, etc) to include bookings from your MIDAS system.
How to get the Data Feeds addon
Existing customers running MIDAS v4.23 (or later) can add the Data Feeds addon to their MIDAS system via the upgrade page.

New customers may include the API Access addon at time of purchase, or add it to their MIDAS at a later date.

Once the Data Feeds addon has been purchased, it will then become available for one-click installation within your MIDAS software via MIDAS Admin Options → Manage Addons
Settings
The optional Data Feeds addon allows you to generate multiple data feeds for different applications, each of which may be customized to limit the bookings included within the feed to only those which take place in certain venues, and/or which are of a certain "type", and/or which match other key criteria.
Documentation
Complete Data Feeds addon documentation, including some live RSS feed and external calendar subscription examples, is available at https://mid.as/data-feeds.
← Return to the Knowledge Base