MIDAS Knowledgebase
How to install MIDAS - Create a new MySQL Database via cPanel
Before you install MIDAS, you will need to create a blank MySQL database on your server. The following instructions describe how to setup a MySQL database using cPanel.
If your server doesn't run cPanel, and has different server/MySQL management software, you may need to refer to the documentation that comes with it.
Alternatively, you can manually setup a MySQL database via the
command line
.
Step 1: Login to your cPanel
Once logged into cPanel, select the "MySQL® Databases" icon:

Step 2: Create New Database
Enter a desired internal name for your MIDAS database:
NOTE: You will need the name of this database when installing MIDAS

Step 3: Add New User
Once you've created a database, create a new MySQL user:
NOTE: You will need this username/password when installing MIDAS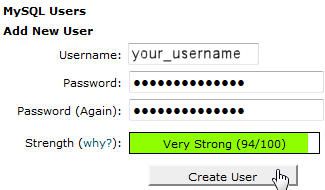 Step 4: Add The User To The Database
Once you've created a database and a MySQL user, you will need to associate the user with the database: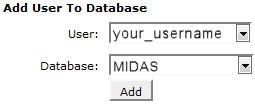 Step 5: Set Account Privileges
Finally, you will need to specify the permissions for that your MySQL user will have on your database. MIDAS requires the following privileges:
ALTER, CREATE, DELETE, DROP, INSERT, LOCK TABLES, SELECT, UPDATE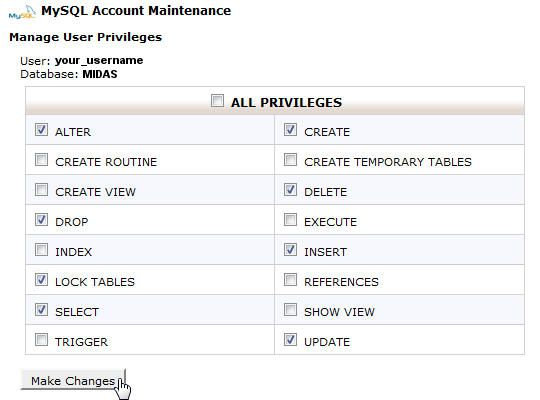 Once you've setup your MySQL database, you're ready to install MIDAS
← Return to Knowledgebase