Integrate MIDAS & Slack To Extend Your Staff Communications

↔

Link MIDAS to Slack and get booking activity notifications inside your Slack channel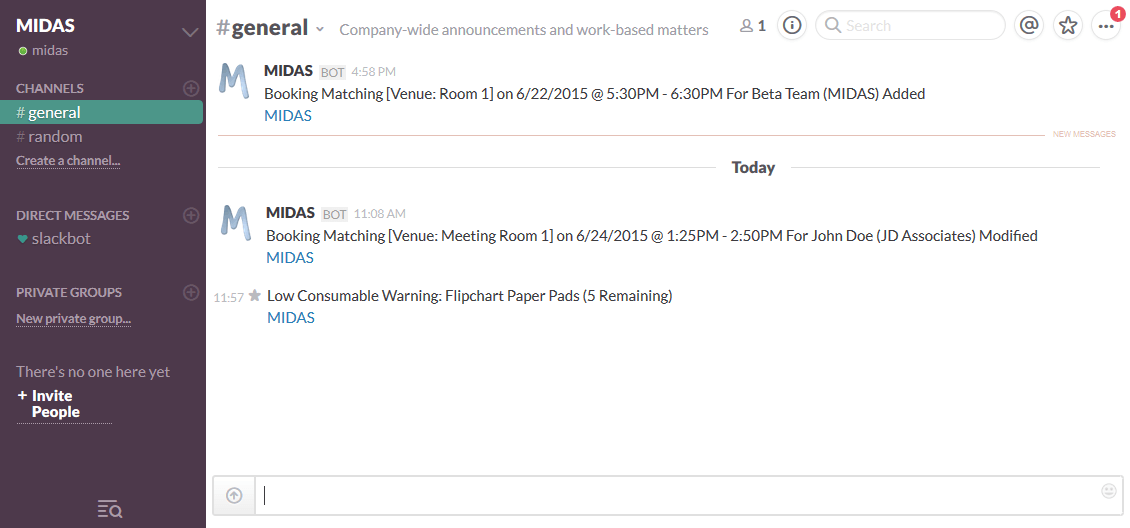 ---
HOW IT WORKS
Set up Watch Notifications
The powerful "Watch Notifications" feature of MIDAS allow you to receive notifications when certain activity occurs within your MIDAS booking system.

For example, you could setup a "Watch" notification to alert you whenever a particular space is booked, or when it becomes available.

With Slack integration, you can have these Watch Notifications appear in your Slack channel.
Configure Slack Integration
Once you've set up your Watch Notifications, grab a Slack WebHook URL.

Paste this WebHook URL into the Slack addon settings page in MIDAS, and you're good to go!

For even more flexibility, if your organization has setup multiple Slack channels you can optionally configure which channel notifications are posted to. You can even have them posted as Direct Messages through Slack to an individual member of your team.
Get Notifications in Slack
Whenever activity occurs in your MIDAS system which triggers a "Watch Notification", the notification will be instantly posted to your Slack feed!
---
AVAILABILITY
Slack integration is available for both cloud hosted and self hosted editions of MIDAS room booking software through an optional addon.

...or if you're an existing customer, you can easily add Slack integration to your MIDAS system.