Clear & Crisp Web Interface
MIDAS is a powerful room booking and resource scheduling system.
It is entirely "web based", meaning that it's accessed via a web browser on your computer, laptop, tablet, or mobile device.
We make a point to ensure that all modern web browsers are supported, so you won't have to ditch your favorite browser to be able to use our room booking software.
MIDAS utilizes the latest web standards and technologies, and features crisp high-resolution SVG graphics throughout its user interface (UI). This makes the software look great regardless of your device's screen size or resolution.
There are also a number of visual themes included with MIDAS. As an administrator you can select a theme for all users to use, or allow users to choose their own visual theme when they login.
Customers with our self-hosted edition of MIDAS can also create and customize visual themes to create their own unique appearance for their MIDAS booking system.
At the core of MIDAS is the main Booking Grid. This has been designed to allow you to easily see all relevant booking information at a glance in, and clear and concise way without any clutter.
Further reading: Overview of the main MIDAS window and Booking Grid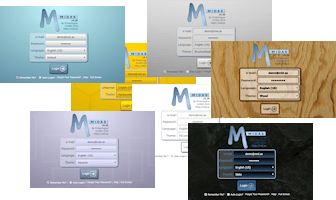 ---
Explore More Features of MIDAS Booking Software...