Bookable Time "Slots"
MIDAS room booking systems allow users to book between two discrete times as standard.
Both a start and a finish time may be selected from separate drop-down lists on the Add Bookings screen.
Hours can be configured to display in either 12 hour or 24 hour mode.
However, if you regularlay book into predefined, fixed, time "slots" these can readily be setup in MIDAS.
This makes MIDAS the ideal room scheduling software for organizations with structured days, such as in schools, as it allows bookings to be made by school "period" or lesson.
Multiple lists of time "slots" (or periods) can be defined in the software.
Optionally, you can select which users see which list of predefined time "slots" to book into, or which users simply see the regular start and finish time selectors.
Further reading: Adding Bookings in MIDAS | Manage Time Lists in MIDAS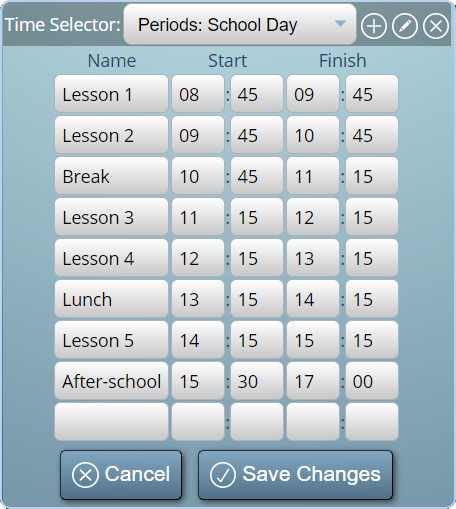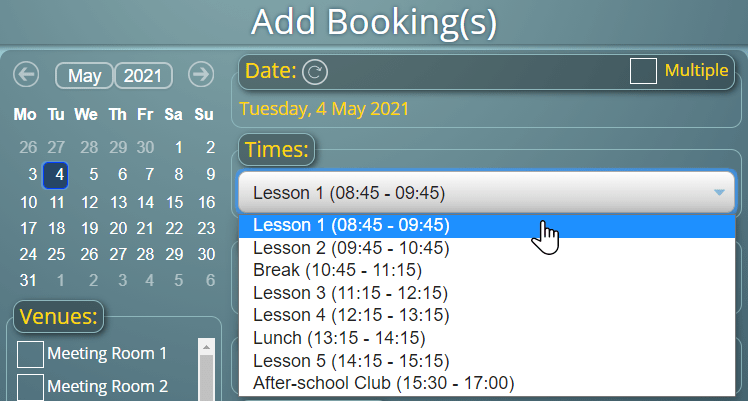 ---
Explore More Features of MIDAS Booking Software...