Cloud Hosted Room Booking
As more and more people will testify to, cloud-hosted SaaS (Software-as-a-Service) solutions are the way to go and have become the software solution of choice for many organizations!
The benefits of a cloud hosted room booking and resource scheduling system really do speak for themselves...
4 Benefits of Cloud Based Software
Accessibility
A cloud-hosted MIDAS room booking system is available whenever and wherever you are - be it at work, in the office, at home, or on the move, you can get instant on-demand access to your room bookings from any device with an internet connection.
Our cloud-hosted solution also allows your customers and clients to instantly check the availability of your rooms/venues, make bookings or booking requests online, and quickly pay their invoices!
Ease of Set-up and Use
MIDAS is a perfect choice for multi-user/multi-site businesses and organizations, and great for system administrators too, as cloud hosted applications like MIDAS don't need to be downloaded, installed, or upgraded on every end-user's device! - all your users need in order to use MIDAS is a modern web browser on their desktop, laptop, tablet or mobile device and an Internet connection!
Reliability
With
rock solid uptime performance
, you can be confident that MIDAS has you covered, as we know that maintaining access to your booking information is paramount to the smooth running of your business operations.
Cost
Because there's nothing to install, deploy or maintain, your equipment and operating costs can be drastically reduced as a result of switching to a cloud-based, on demand, hosted software application for your room booking and resource scheduling!
Introducing MIDAS...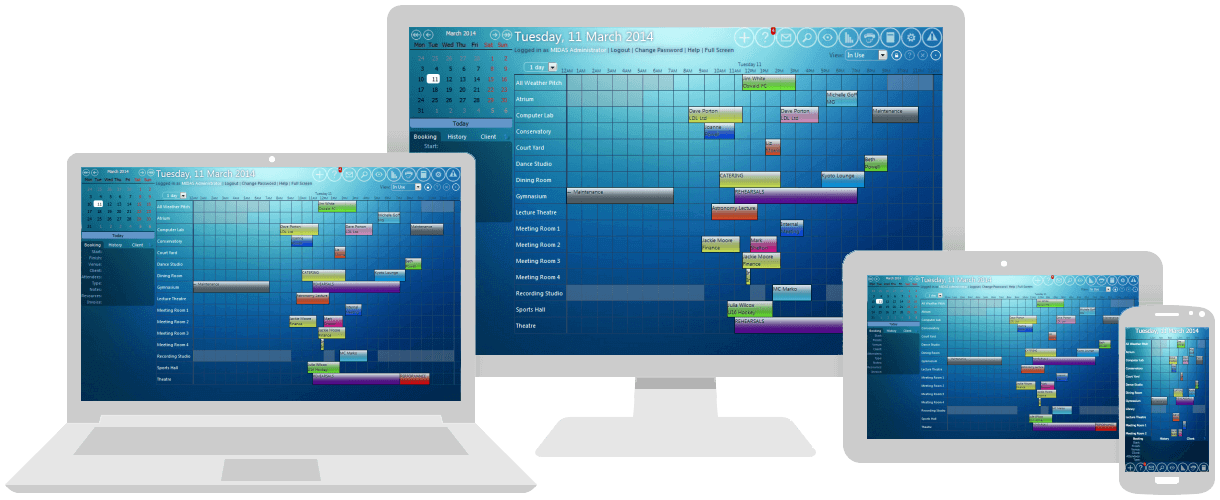 Trusted by organizations all over the world!
We currently host cloud based booking and scheduling solutions for schools, colleges, and universities; health, medical and local government entities; entertainment, sports, and leisure complexes; Churches, and community centers - whatever the size or nature of your organization or business, MIDAS is the cloud-hosted room booking and resource scheduling solution for you!

A cloud hosted MIDAS system provides you with a powerful, intuitive, versatile room booking system that's ready-to-use right from the word go! You don't need to worry about installing any software updates either, as we handle all these for you - offering a true "hassle-free" scheduling solution!