Schedule Recurring Bookings
MIDAS software makes it easy to quickly schedule regularly
recurring bookings
for your clients.
Simply select the first date in your series of bookings, and let MIDAS know the frequency of the recurring bookings, and for how long these bookings should repeat for.
You can select which particular days of the week the booking should take place on. Or, for instance, specify that recurring bookings take place on the 3rd Tuesday of every month.
Recurring bookings can repeat for a set number of weeks, or until an absolute end date.
The system also allows bookings to be scheduled for multiple spaces, making it simple to block book a number of spaces across a number of dates for a given client.
Furthermore, MIDAS allows you to modify individual bookings, or a series of similar (recurring) bookings. With just a few clicks in the software you can quickly update a client's regular bookings.
Further reading: Making Repetitive Bookings in MIDAS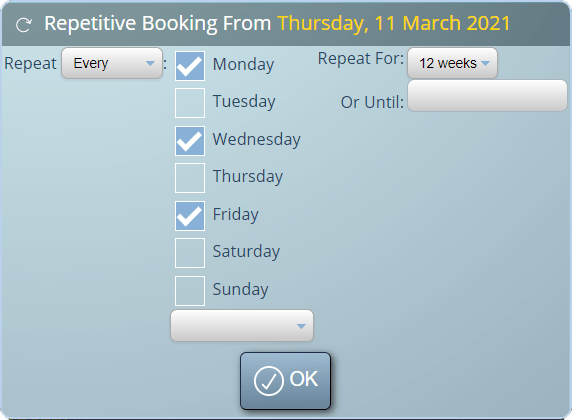 ---
Explore More Features of MIDAS Booking Software...