Accessed Through Your Web Browser
MIDAS is a fully "
web based
" room booking and resource scheduling system, accessed entirely using your
web browser
.
Whether you're on a computer, laptop, tablet or mobile device, you can simply open your browser, navigate to the URL of your MIDAS system, and log in.
Because MIDAS is entirely browser-based, there's no additional software for your users to first download and install in order to be able to use MIDAS software.
All they'll need is a modern web browser and a connection to the server hosting the booking system - whether that's our cloud servers or your own local server.
This helps make MIDAS the perfect online room and resource scheduling solution for large or multi-site businesses, as your booking system can be accessible from anywhere!
Plus we're committed to supporting all major modern web browsers, including Google Chrome, Mozilla Firefox, Apple Safari, Microsoft Edge, Opera, and more!
So whatever browser is your personal favorite, you won't need to switch to a different browser to be able to use MIDAS.
Further reading: Supported Web Browsers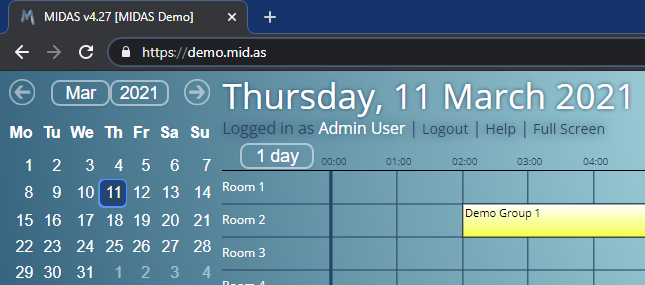 ---
Explore More Features of MIDAS Booking Software...