Day, Multi-Day, Week & Monthly Calendar Views
MIDAS booking systems offer complete flexibility when it comes to an overview of your bookings.
The Booking Grid shows a graphical representation of your bookings.
With bookable spaces listed vertically, and times listed horizontally, each booking is represented by a colored block within the grid.
The position of each block in the grid indicates the room/space which has been booked, and the period of time the booking occupies.
When you login, MIDAS defaults to showing you bookings for the current day. You can quickly switch to any other date using the main navigation calendar.
In addition to the single day-by-day view, MIDAS also includes a multi-day view. The multi-day view displays up to 8 weeks worth of bookings in the booking grid at one time!
But that's not all! MIDAS also includes a useful "Monthly Overview" view. This shows a summary of bookings for every date within a given month.
If all that wasn't enough, MIDAS software can also generate a summary or detailed printout of all bookings over any custom date range!
Further reading: View options in the Booking Grid | Managing User Permissions in MIDAS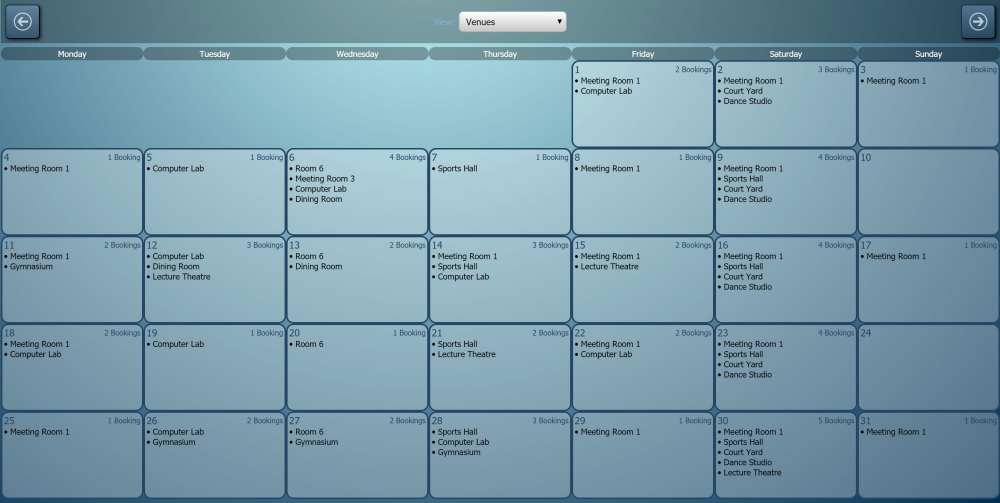 ---
Explore More Features of MIDAS Booking Software...